Breast Cancer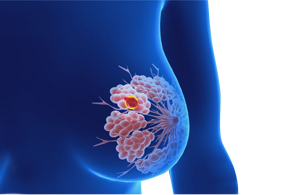 Breast cancer affects one in eight women during their lives. No one knows why some women get breast cancer, but there are many risk factors. Risks that you cannot change include
Age - the risk rises as you get older
Genes - two genes, BRCA1 and BRCA2, greatly increase the risk. Women who have family members with breast or ovarian cancer may wish to be tested for the genes.
Personal factors - beginning periods before age 12 or going through menopause after age 55
Other risks include obesity, using hormone replacement therapy (also called menopausal hormone therapy), taking birth control pills, drinking alcohol, not having children or having your first child after age 35, and having dense breasts.
Breast cancer generally begins in lobules (milk-producing glands) or ducts (milk-draining passages extending from the lobules to nipple). Breast cancer can sometimes occur in the fatty and fibrous breast tissues. If left untreated, the tumor cells may invade into the nearby healthy breast tissues and into the lymph nodes of the underarm, which can spread to the other body parts.
The common pathological breast changes can be categorized into non-cancerous and cancerous changes. Non-cancerous changes include generalized breast lumpiness; enlarged lymph nodes; painless, movable and firm lumps; presence of cysts; breast pain; abscesses or nipple discharge. Cancerous changes in the breast include invasive ductal carcinoma, lobular carcinoma, etc. The symptoms of breast cancer include a persistent irregularity or lump within the breast or near the underarm, swelling around the breast, changes in the appearance of the breast or nipple, nipple discharge which may be blood-stained or clear fluid, hardness or dimpling felt over the breast or any unusual changes in the breast.
Self-breast examination, mammograms, biopsies, blood tests and imaging studies can be ordered by your doctor to detect and monitor breast cancer.
Breast cancer is generally treated with a combination of surgery, hormone therapy (blocks some hormones), radiation therapy (use of high-energy rays) and chemotherapy (use of certain drugs). Deciding on the appropriate type of surgery for you will depend on the stage of cancer, type of cancer and its long-term benefits.
Why should I be concerned about breast cancer?
It seems like we've all been affected by breast cancer at some point in our lives, whether we have had it, or have had a family member or friend who's battled it. Every woman has a chance of getting breast cancer. Other than skin cancer, breast cancer is the most common cancer in American women and the disease we fear most. As scared as we are, you can try to remember that if you find breast cancer early, it can often be treated successfully. Many women have overcome breast cancer and are living life to its fullest!
Where can I learn more about breast cancer?
The National Cancer Institute (NCI) is the federal government's authority on breast cancer. Contact them at 800-4-CANCER FREE 800-422-6237 FREE or go to the following web site: http://www.cancer.gov/cancerinfo/wyntk/breast
For More Information…
You can also find out more about breast cancer by contacting the National Women's Health Information Center 800-994-9662 FREE or the following organizations:
National Cancer Institute
Cancer Information Service
Tel:(800) 422-6237
Internet Address: http://www.cancer.gov/
National Breast and Cervical Cancer Early Detection Program
Tel:(888)-842-6355 (select option 7)
Internet Address: http://www.cdc.gov/cancer/nbccedp/index.htm
American Cancer Society
Tel:(800)-ACS-2345
Internet Address: http://www.cancer.org
Susan G. Komen Breast Cancer Foundation
Tel: (800)-462-9273
Internet Address: http://www.komen.org
PLEASE NOTE:
Dr. April Maddux's practice has evolved significantly over the years with increasing focus on surgical treatment of breast cancer and preventive/prophylactic surgery for high-risk individuals. Urgent appointments can be made for patients with a confirmed or strongly suspected diagnosis of breast cancer; however, our capacity to offer appointments to patients with benign lesions or symptoms not suspicious for breast cancer is very limited.
We Want To Hear From You
Request an Appointment. Send Us Your Question.